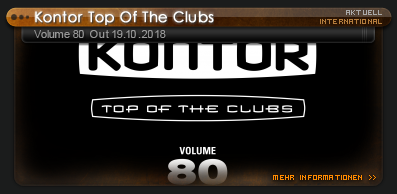 Die "Kontor Top Of The Clubs" geht in die nunmehr 80. Runde.
69 der aktuellsten Club-Hits, die zum Teil noch unveröffentlicht oder erstmalig und exklusiv auf einer Compilation zu hören sind, sind mit dabei. Mit ihrem musikalischen Gespür sind die DJs Markus Gardeweg Jerome und HUGEL für die Zusammenstellung der Compilation, in drei exklusiven DJ-Mixen, verantwortlich. Außerdem findet man auf einer vierten Bonus-CD noch 23 ausgewählte Tracks von CD 1-3 ungemixt und in voller Länge!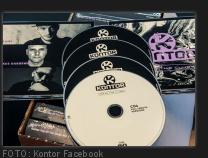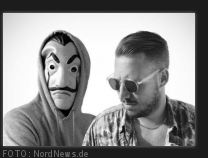 Die dritte CD ist gemixt von HUGEL, der durch seinen Remix von "Bella Ciao" im Deep-House-Stil bekannt wurde.
HUGEL begann mit seiner Tätihkeit als Musikproduzent im Jahre 2005, mit Einflüssen aus Hip-Hop, Pop und Electronic.
Für den Sommerhit des Jahres 2018 bekam HUGEL sogar eine goldene Schallplatte.
Auf der Compilation ist bestimmt für jeden etwas dabei.
Hier kann man in die Compilation reinhören:
Tracklist:
CD1: Mixed by Jerome
01. Lost Frequencies feat. The NGHBRS - Like I Love You
02. Dynoro & Gigi D'Agostino - In My Mind
03. Alle Farben & YOUNOTUS & Kelvin Jones - Only Thing We Know (ALIGEE Remix)
04. Loud Luxury x anders - Love No More
05. Calvin Harris & Dua Lipa - One Kiss
06. ATB feat. Conor Matthews & LAUR - BODY 2 BODY
07. Axwell / Ingrosso & RØMANS - Dancing Alone
08. Sultan + Shepard - High On Emotion
09. RetroVision - Get Down
10. Jonas Blue feat. Jack & Jack - Rise (Jonas Blue & Eden Prince Club Mix)
11. Mike Candys & Jack Holiday - The Riddle Anthem Rework
12. AMI.BLOOM - Finally
13. Cecilia Krull - My Life Is Going On
14. Don Diablo feat. Alex Clare - Heaven To Me
15. Monja Mari Achi - Dominique (Monjas Extended Club Mix)
16. Martin Garrix feat. Bonn - High On Life
17. DJ Antoine feat. Kidmyn, Armando & Jimmi The Dealer - Symphony (Kidmyn Extended Remix)
18. Tujamo & Salvatore Ganacci feat. Richie Loop - Jook It
19. Syzz & Hard Lights - 90s Better
20. Armin van Buuren - Blah Blah Blah (Bassjackers Extended Remix)
21. Dimitri Vegas & Like Mike vs. Nicky Romero - Here We Go (Hey Boy, Hey Girl)
22. Dave202 - Blizzard
23. Stereoact & Jaques Raupé feat. Peter Schilling - Terra Titanic (Anstandslos & Durchgeknallt Extended Remix)
CD2: Mixed by Markus Gardeweg
01. EDX - Sillage
02. Sllash & Doppe - Jungle Fever
03. Junior Jack & Tube & Berger - E Samba 2018
04. CamelPhat - The Solution
05. Crush Club feat. Supermini - We Dance
06. Goodluck & Boris Smith - Be Yourself
07. PAX - Catfish
08. LOVRA - My Beat
09. VIZE - Glad You Came (Modern Citizens Extended Remix)
10. Loud Luxury feat. Brando - Body
11. Dom Dolla - Take It
12. Sunnery James & Ryan Marciano feat. Bayku - 5 Minutes Away
13. XUL ZOLAR - Hex (Ben Delay Extended Remix)
14. Marcapasos - Blown Job (Reloaded)
15. Kav Verhouzer & Sjaak - Stap Voor Stap
16. Oliver Koletzki & Niko Schwind - Subati (Andhim's Electrica Cucar Remix)
17. Analog Sol - Trinidad Dreams
18. Jack Nova & Dedwork - Lost & Found
19. Marzzano - My Mind
20. Sean Roman - I Wanna (Illyus & Barrientos Extended Remix)
21. Lifelike & Kris Menace - Discopolis 2.0 (Sander van Doorn Extended Remix)
22. Neptunica feat. Zay - Jealous Sun
23. Calmani & Grey - Time Of Our Lives
CD3: Mixed by HUGEL
01. El Profesor - Bella Ciao (HUGEL Remix Extended)
02. Robin Schulz & Piso 21 - Oh Child (LOVRA Remix)
03. David Guetta & Sia - Flames (Sylvain Armand Remix)
04. HUGEL & Taio Cruz - Signs
05. Starley - Love Is Love (MOTi Extended Remix)
06. Throttle - All In (VIP Mix)
07. Michael Calfan - Got You
08. Tiësto & Dzeko feat. Preme & Post Malone - Jackie Chan
09. Tess Clare - Lovey
10. Julian Perretta - On the Line (HUGEL Remix)
11. Chris Lake feat. Alexis Roberts - Turn Off The Lights
12. Kaskade, Brohug & Mr. Tape feat. Madge - Fun
13. Calippo - Thinking About You
14. Me & My Toothbrush - Push The Tempo
15. Nico de Andrea - The Shape (HUGEL Extended Remix)
16. Adam Trigger - Olé (HUGEL Extended Remix)
17. Zonderling x Don Diablo - No Good
18. Valentino Khan - Lick It
19. Damien N-Drix - PRIMAH
20. OFFAIAH - Private Show
21. Oliver Heldens & Sidney Samson - Riverside 2099
22. Sono - Top Of The World (FREY Remix)
23. Hutcher - Love Me Like
CD4: Full Length Versions
01. Loud Luxury x anders - Love No More
02. EDX - Sillage
03. Lost Frequencies feat. The NGHBRS - Like I Love You
04. PAX - Catfish
05. DJ Antoine feat. Kidmyn, Armando & Jimmi The Dealer - Symphony (Kidmyn Remix)
06. ATB feat. Conor Matthews & LAUR - BODY 2 BODY
07. Mike Candys & Jack Holiday - The Riddle Anthem Rework
08. LOVRA - My Beat
09. Neptunica feat. Zay - Jealous Sun
10. Calmani & Grey - Time Of Our Lives
11. Marcapasos - Blown Job (Reloaded)
12. Sllash & Doppe - Jungle Fever
13. Sultan + Shepard - High On Emotion
14. AMI.BLOOM - Finally
15. Tess Clare - Lovey
16. Jack Nova & Dedwork - Lost & Found
17. Lifelike & Kris Menace - Discopolis 2.0 (Sander van Doorn Remix)
18. Starley - Love Is Love (MOTi Remix)
19. XUL ZOLAR - Hex (Ben Delay Remix)
20. Hutcher - Love Me Like
21. Dave202 - Blizzard
22. Analog Sol - Trinidad Dreams
23. Kav Verhouzer & Sjaak - Stap Voor Stap