Am 16. April 2017 wird in der Turbinenhalle in Oberhausen ein weiteres Mal de Pforten für das Easter Rave 2017 geöffnet werden. Nachfolgend erhaltet ihr die wichtigsten Informationen zum Event und der passenden Compilation, die am 13. April 2017 Release feiern wird.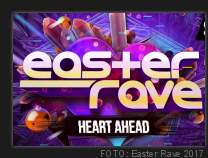 Das LineUp ist auch in diesem Jahr mit zahlreichen national wie international bekannten Genre-Größen bestückt. In der Dance-Area werden euch in diesem Jahr folgende Musiker zum Feiern animieren: Sylver, Masterboy & Beatrix Delgado, Special D., Master Blaster, Dune, ItaloBrothers, Aquagen, Marry, Rob & Chris, DJ Gollum, 89ers, Pulsedriver, The Real Booty Babes, Empyre One, Basslovers United, G4bby feat. Bazz Boyz, DJ Restlezz und Cloud Seven.

Die Hardstyle-Area wird von Radical Redemption, Da Tweekaz, Frontliner, Wildstylez, Code Black, Bass Modulators, Ran-D, Crypsis, Sub Zero Project, Pat B., Mvtate und GSB beehrt werden. In der Hardcore-Area sind wiederum folgende Artists für euch an den Decks: Angerfist, Mad Dog, Art Of Fighters, Tha Playah, Evil Activities, Black Flowers, Re-Style, D.R.S., Lady Dammage, Alien T., Dyprax, Tensor & Re-Direction und Quitara. Happy-Hardcore kann mit Darren Styles, S3rl, Gammer, Scott Brown, Ultrabeat, Mark Breeze und Sintica gefeiert werden.
Auf dem House-Floor werden euch weitere Musiker in Extase versetzen: Tom Swoon Sick Individuals, Ostblockschlampen, Sebastien, Selecta, Neptunica, Stupid Goldfish, Ton Don und Mann & Meer. Desweiteren gibt es noch einen Newcomer-Floor, auf dem ihr in diesem Jahr folgende Musiker erwarten könnt: Base, 2be, DJ Yilmars, DJ Symphony, Sinfonia, Stargazer & PLK, C0py, DJ Technology, HakKtion und Skybreaker.
Wann? 16. April 2017
Wo? Turbinenhalle Oberhausen
Alter?
ab 16 Jahren (mit volljähriger Begleitperson und
U18 Formular
)
Musik-Styles? Dance, Hardstyle, Hardcore, House und Happy Hardcore
Standard Tickets? Ticketstufe III: 39,90 €
VIP Tickets? Ausverkauft
Gold VIP Tickets? Wenige Restkarten an der Tickethotline
CD 1:
01. DJ Gollum feat. DJ Cap vs. 89ers - Heart Ahead (Easter Rave Hymne 2017)
02. Masterboy - Feel The Heat Of The Night
03. Master Blaster - Come Clean
04. Special D - Forever Young
05. Aquagen - Hard To Say I'm Sorry
06. ItaloBrothers - Sleep When We're Dead
07. Marry - Bis In Alle Ewigkeit (Megastylez vs. DJ Restlezz Mix)
08. Rob & Chris - Die Show Beginnt
09. The Real Booty Babes - Ain't No Party Like This
10. Basslovers United - Stronger
11. Empyre One - Moonlight Shadow
12. Pulsedriver & DJ Fait - A Neverending Dream
13. Sunset Project - Shadows
14. Cloud Seven & Jumpgeil - Tanzmusik
15. Ultrabeat - Use Somebody
16. 89ers - Kill The DJ!
17. Dune - Magic Carpet Ride
18. S3RL feat. Charlotte - Where Did You Go
19. Darren Styles - It's Like That
20. Scott Brown - I Rave You
21. Gammer & Dougal - Shoulder Lock
22. Mark Breeze - Be Alone
CD 2:
01. Code Black feat. Elle Vee - Wild Ones
02. Da Tweekaz feat. Matthew Steeper - Tomorrow
03. Frontliner - Oh!
04. Wildstylez & Villain - Make The Crowd Move
05. Bass Modulators - Mantra
06. MVTATE - Dream
07. DJ G4bby feat. Miss Destiny - Do You Believe 2k17
08. Pat B. - Not Another Love Story
09. Crypsis & Radical Redemption - Bathe In Blood
10. Ran-D - FCK EDM
11. Sub Zero Project - The Project
12. Angerfist & MC Nolz - Raise & Revolt
13. Evil Activities & DJ Mad Dog - 911
14. Art Of Fighters - Your Poison
15. Tha Playah - Get Hard
16. Re-Style - Rock The Show
17. Tensor & Re-Direction - Troublemaker
18. Alien T - I Hate Children
19. Dyprax feat. Apathy - Down To Earth
20. Black Flowers - Taste Of Death
21. Lady Dammage - Fear Me Bitches
22. DRS - This Is My Legacy